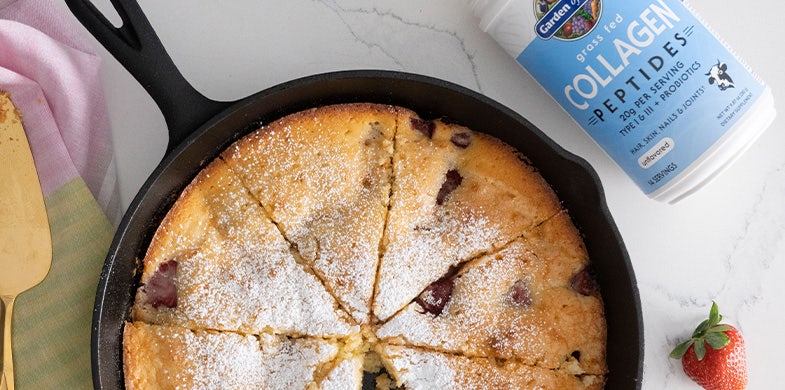 Have this strawberry skillet cake for breakfast, dessert, or a snack - you can't go wrong with a sweet fix boosted with collagen peptides.
Serves: 8
Ingredients
Use Organic if possible
Dry Ingredients:
Other Ingredients:
½ cup full fat Greek yogurt, plain

½ cup grass fed butter, softened

1 cup Swerve Granulated Sugar plus 2 Tbsp.

2 eggs

½ tsp. vanilla

2 Tbsp. Swerve Confectioner's Sugar

1 lb. strawberries, halved

Coconut oil spray


Preparation:
Preheat oven to 350 degrees.

Whisk together dry ingredients and set aside.

Using an electric mixer, beat together butter and sugar (saving 2 Tbsp. of the sugar for later) for around 4-5 minutes until creamy and fluffy. Add eggs and beat again for a few minutes then add vanilla and beat until combined. Add in ½ of the dry ingredients to the wet ingredients and beat until combined, then add ¼ cup of the yogurt and beat again. Repeat with the rest of the flour, then yogurt.

Fold in strawberries.

Spray a 12 inch cast iron skillet with coconut oil, pour in batter, then sprinkle remaining 2 Tbsp. of sugar on top.

Bake for 35 minutes.

Once cooled, dust cake with swerve confectioner's sugar and serve!