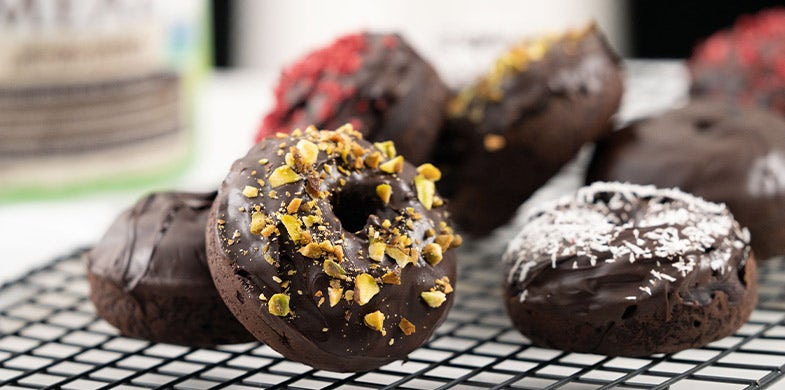 Makes: 9
Use Organic:
1 ½ cups gluten free baking flour
½ cup unsweetened cocoa powder
¼ cup Garden of Life Raw Meal Chocolate
1 tsp. baking soda
1 tsp. baking powder
½ tsp. salt
2 eggs
3 Tbsp. Garden of Life Extra Virgin Coconut Oil, melted (or vegan butter)
½ cup coconut palm sugar
1 tsp. vanilla extract
1 cup unsweetened almond or oat milk
Coconut oil spray
Preparation:
Whisk together the flour, cocoa, Raw Meal, baking soda, baking powder and salt. In a separate bowl, using an electric mixer, mix together the coconut oil and coconut sugar. Add in one egg at a time and mix again. Add in vanilla. Alternate almond milk and sugar mixture into the dry ingredients using the electric mixer. Grease a 9-cavity donut pan. Pour batter into each cavity and bake at 350 for 16-18 minutes. Let donuts cool on a cooling rack.