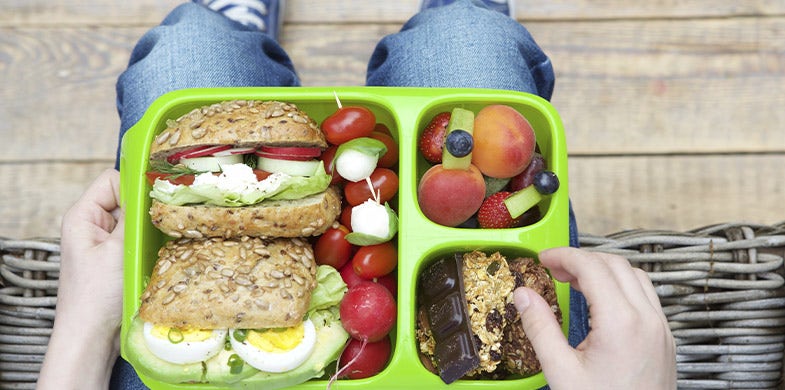 For the healthy family, healthy school lunches and after-school snacks can often be a challenge. Avoid the parent trap of unhealthy options with these nutritious tips, ideas and recipes. You'll have healthier and happier kids!
With the ever-increasing temptations of processed foods that many kids tend to gravitate toward for school lunches and after-school snacks, parents need some tips and tricks to keep their children interested and excited about eating nutritious food.
Let's start with healthy school lunches—ones that are tasty, fun, quick and easy to prepare. The key is to start with these building blocks: include at least one protein, one vegetable and one fruit in each lunch.
Get your children involved with making their own lunches, since they are more likely to eat foods that they helped pick out and create. Offer variety throughout the week, and simply mix and match within the three categories.
Give Growing Bodies Protein
Proteins are essential for practically every process that occurs within the body—especially growing bodies. So, what are some good protein choices for your child's lunch? Lunch meats and fish (such as tuna) that are free of artificial ingredients, growth hormones and antibiotics are top picks. For your vegetarian choices, try boiled eggs (egg salad), hummus, nut butters and trail mix with seeds and nuts. Cheese cubes are quick and easy for kids to munch on as well.
Stuff School Lunches with Vegetables
Make eating veggies fun by adding a variety of colors, shapes, textures and tastes. Challenge your child to eat the "colors of the rainbow" every day—and Skittles® don't count! Bell peppers, carrot sticks, fun finger foods such as cherry tomatoes, sugar snap peas and sliced cucumbers are the way to go.
Fruits For the Win
Let your child pick out what fruit he or she likes. Not all kids prefer apples, but bananas or strawberries might satisfy. Some children prefer various textures, including chewy fruit leather or soft applesauce. Avoid fruit snacks that are filled with sugar. Likewise, remind your children that sugary fruit snacks don't grow on trees!
Healthy After School Snacks
Now for some yummy after-school snack ideas! Set out an ice tray filled with various nuts, seeds, berries and dried fruit. Or try ants on a log, fruit kabobs with yogurt dip, hummus with sliced veggies or guacamole with carrot sticks or crackers. Blended smoothies are also delicious while packing in a lot of nutrients.
Avoiding the parent trap of unhealthy food options can help develop kids healthy eating habits that will follow them throughout life