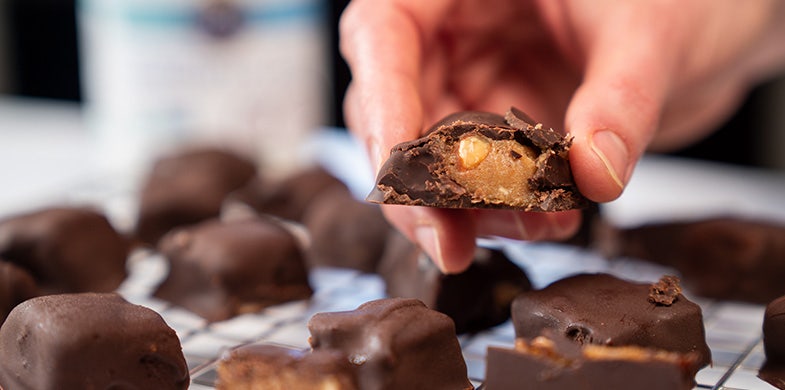 Chocolate and almonds—yes, please! This energy bite recipe is great for those on the go or kept in the fridge as a perfect anytime snack.
Serves: 25-30
Ingredients
Use Organic if possible
2 cups Medjool dates pitted

1 cup creamy almond butter

1 cup roasted almonds roughly chopped

1 ½ teaspoons vanilla extract

¼ teaspoon salt
For Chocolate:
Preparation
Soak dates in hot water for about 20-30 minutes.

Remove dates from water and place in a high speed blender with almond butter, vanilla and salt and blend to a paste.

Spread paste into a parchment-lined brownie pan and freeze for an hour.

Cut paste into squares and place back in freezer while you melt the chocolate.

Using a double broiler, melt chocolate with the cacao butter and coconut oil.

Dip each piece of date/almond bite into chocolate and then place on a parchment lined cookie sheet.

Store bites in freezer until ready to serve.