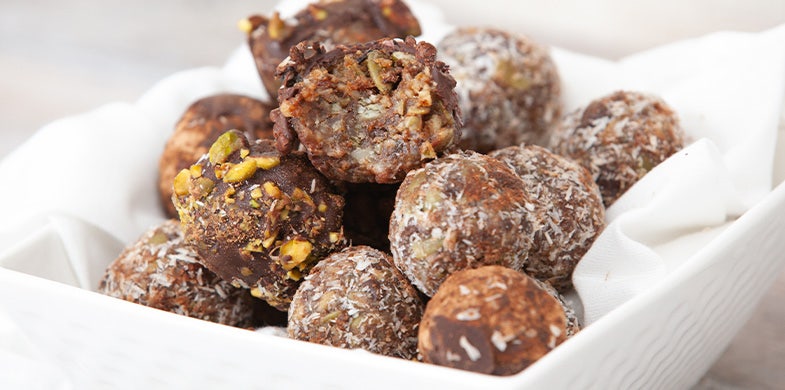 Here's a yummy, good-for-you snack that's perfect as an after-school or after-dinner bite.
Serves: 24
Ingredients
Use Organic if possible
1 cup pecans
1 cup pumpkin seeds
½ cup coconut flakes (plus 1 additional cup coconut flakes)
½ cup raisins
½ cup chocolate chips
8 Medjool dates (soaked in water for 20 minutes)
2 Tablespoons sunflower butter (or almond butter)
2 Tablespoons Garden of Life Golden Flaxseed
1 Tablespoon Garden of Life Coconut Oil
1 Tablespoon water (you can use the water that the dates were soaking in)
½ teaspoon cinnamon
¼ teaspoon sea salt
Preparation
Remove dates from water after 20 minutes and make sure there are no pits in them.
Break them in half and place them in a food processor with the remaining ingredients (except for the additional 1 cup of coconut flakes).
Pulse until batter begins to stick together.
Remove batter from food processor and refrigerate for about 15 minutes (this will make it easier to roll cookie balls).
Roll tablespoon-sized cookie bites ("trail mix bites") and then coat in coconut flakes and place back in refrigerator.
Store bites in refrigerator for up to one week or in the freezer for up to 2 months.
Option: Roll bites in cacao, cinnamon or dip in melted chocolate.