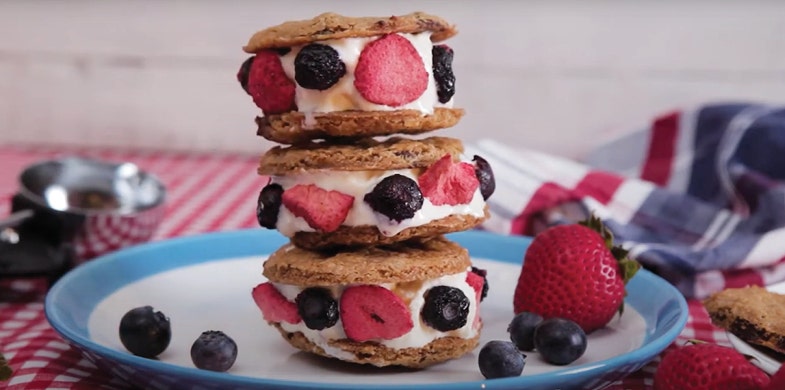 This healthy, patriotic treat will complement your favorite summer holidays. Our healthy ice cream sandwiches recipe will soon become a family summer staple.
Serves: 12
Ingredients
Dry Ingredients:
1½ cups all-purpose gluten free flour

½ cup almond flour

1 tsp sea salt

1 tsp baking soda

½ tsp baking powder
Sandwich Ingredients:
1 cup chocolate chips

Vanilla Ice Cream (non-dairy) and freeze dried blueberries and strawberries
Preparation
To make the cookies, preheat oven to 325 degrees.

Mix together dry ingredients and set aside.

Mix together wet ingredients and slowly add dry ingredients into wet ingredients to form batter, then mix in chocolate chips.

Spoon tablespoon-sized cookies onto a parchment-lined cookie sheet and bake for 15 minutes.

If cookies do not form as you like, use a round cookie cutter to cut perfect circles after you take them out of the oven, this will make a prettier sandwich.

After cookies have completely cooled, place one scoop of ice cream onto one cookie and place another cookie on top.

Then roll in freeze-dried fruit and place in freezer.

Serve directly out of the freezer.