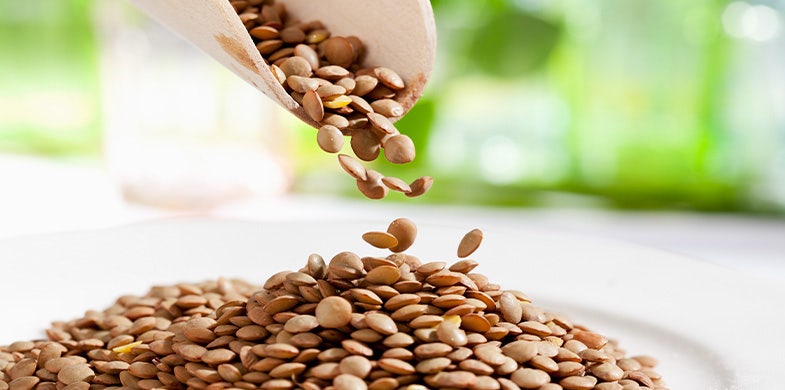 While you may have enjoyed them in soups or veggie chilis, most people don't know beans about the benefits of lentils. A part of the legume family, lentils are often mistaken for beans but are actually an edible pulse that's similar to dried peas and beans. These little lens-shaped legumes come in a rainbow of colors, from red and yellow to green and brown, with flavors from earthy to peppery. While mini in size, lentils are a mighty source of meatless nutrition, which satisfies the needs and appetites of vegans, vegetarians and those cutting down on meat. But there's so much more to love about lentils, discover the many pluses of these pulses.
The Pick of Plant-Based Protein
Bursting with 18 grams of plant protein in one cup of cooked lentils, these pulses are a protein powerhouse. Ounce for ounce, lentils are packed with as much protein as a steak! Yet unlike meat, lentils are sodium-free, cholesterol-free and virtually fat-free so you can feel free to enjoy them anytime. This makes lentils a healthy source of protein whether you're vegan, vegetarian or just enjoying a Meatless Monday!
Full of Filling Fiber
Fiber fills you up without filling you out, which helps you manage your weight while controlling your hunger. Lentils are a leading source of fiber, with a whopping 16 grams in a cooked cup. A daily dose of fiber can help lower your cholesterol and may even protect you against cancer and diabetes. Along with being good for digestion, lentils help maintain a healthy balance of "good" bacteria in your gut, which has a positive effect on everything from your immune system to your skin, mood and appetite.
Rooted in Protective Polyphenols
Lentils are packed with polyphenols, which are unique phytochemicals found in plants that help fight off free radicals in the body that cause damage and diseases. Studies have shown that polyphenols can help protect you from developing serious conditions like heart disease, cancer, diabetes and depression. But just as important as what polyphenols prevent is what they promote, which is stronger immunity, better cognitive function and lower cholesterol.
Pumps Up Your Energy
Want to get more get-up-and-go? Lentils are a leading source of energizing iron, which carries oxygen to the cells throughout your body. If you've been feeling dizzy and drained, you may have an iron deficiency. But since meat, poultry and seafood are the main sources of iron, deficiencies are common among women, children, vegans and vegetarians. Luckily, lentils are a plant-based way to replenish iron levels without the fat, cholesterol and calories of meat. Just be aware that plant-based iron isn't as easily absorbed, so enjoy lentils with foods full of vitamin C like bell peppers, oranges, strawberries and broccoli.
Your "Fast Food" Fix
If you crave convenience, you'll love lentils. There's no need for soaking like most dried beans and they cook up in a flash. And if you favor global flavors, forget greasy Chinese take-out and look to lentils instead, which have spiced up a world of cuisines for centuries in dishes like Indian dal, French salads and Ethiopian stews. Plus, grocery stores are stocked with healthy grab-and-go options like canned lentils and pre-steamed pouches for meatless meals in minutes. Just look for lentils labeled "Non-GMO Project Verified" to avoid being exposed to GMOs.
Eco-Friendly and Budget-Friendly
Ecological and economical, lentils are as good for the planet as they are for your wallet. As both a source of protein and a vegetable, this affordable addition to meals does double duty in the kitchen. Along with saving you the expense of pricier proteins like meat and seafood, lentils also contribute to saving the environment as one of the top climate-friendly foods.
They may be little, but lentils can do you a lot of good, so start enjoying the perks of these pulses.