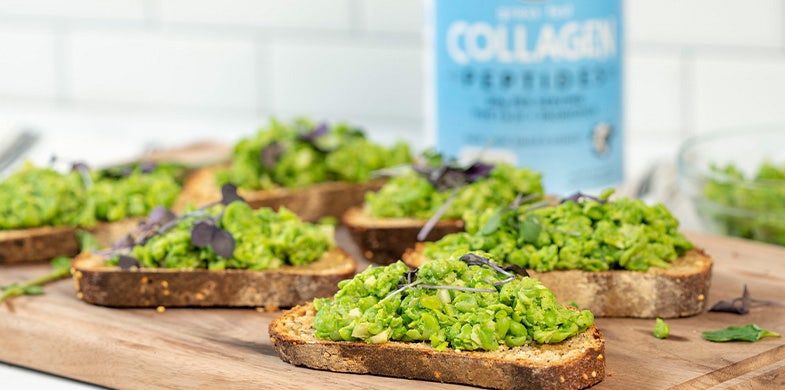 You'll love this health, yummy toast with the added health boost of Collagen Peptides.
Serves: 4
Ingredients
Use Organic if possible
2 cups frozen peas

1 bunch mint leaves

1 Tbsp olive oil

1 Tbsp grass fed butter

1 shallot - minced

2 garlic cloves - minced

Salt and pepper to taste

Bread of your choice
Preparation
Fill a medium-sized pot half way with water and bring to a low boil.

Add in 1 tsp. of salt, peas and mint.

Let boil for several minutes.

While the peas and mint are boiling, add olive oil and butter into a skillet and heat to medium high.

Add in shallot and garlic and cook for several minutes.

Drain peas and mint.

Add peas in with the shallot and garlic and cook for just a few minutes then remove from heat.

Add in Garden of Life Collagen, salt and pepper to taste and mash peas with a fork or potato masher until they are somewhat smooth but still retain some texture.

Toast bread in a toaster or in the oven and then spread pea mixture on toast.