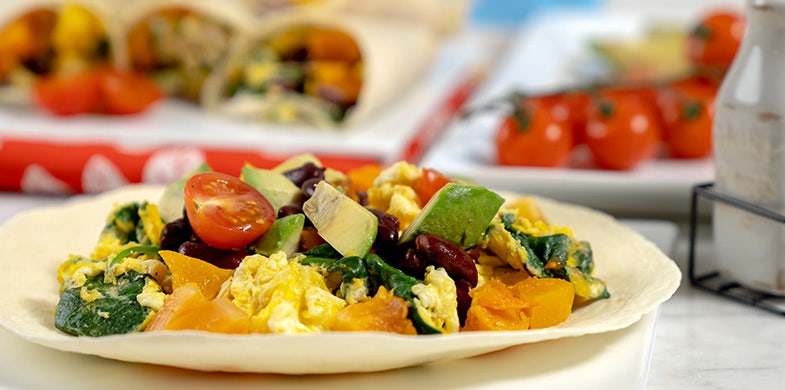 Recipe by: Gwen Eager
Serves:
3-4
Use Organic:
3 large eggs
1 scoop Garden of Life Collagen Peptides
3 Tablespoons unsweetened almond milk
¼ teaspoon salt
¼ teaspoon black pepper
1 handful of spinach
1 avocado cubed
½ cup cooked and cubed sweet potato
½ cup red beans (or garbanzo beans)
1 Tablespoon Garden of Life Coconut Oil
Salsa of your choice
Siete almond flour tortillas
Directions:
Place eggs, almond milk, Collagen Peptides, almond milk, salt and pepper into a bowl and whisk together.
Heat a pan to medium high, add coconut oil then add spinach and cook just until spinach is wilted, then add in egg mixture and cook until the eggs are scrambled (about 4-5 minutes).
To assemble burritos, place about 2 Tbsp. or so each of sweet potato, red beans, avocado and egg mixture onto burrito then place some salsa on top.
Roll burrito carefully and enjoy!