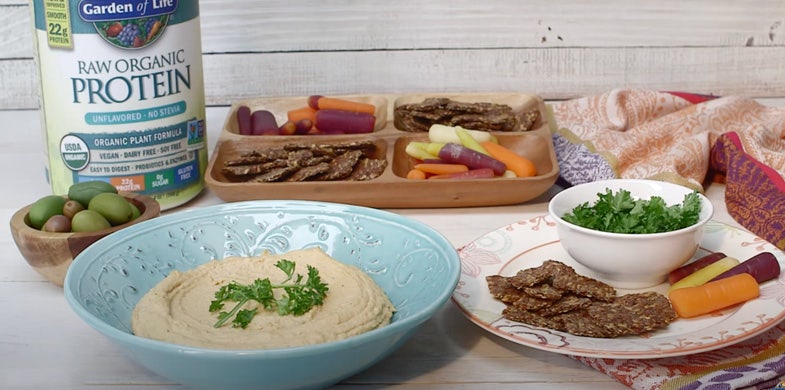 If you've never made your own hummus, let us swing open that door for you with this easy and delicious Protein Packed Hummus recipe. This fresh, gluten-free hummus keeps in the fridge for up to 5 days and has added protein to easily boost your daily intake. Once you've made your first homemade batch, we bet you'll never go back!
Serves: 4-6
Ingredients
Use organic if possible
1 can garbanzo beans (15 oz) rinsed and drained

2 garlic cloves - chopped

3 Tbsp tahini

3½ Tbsp olive oil

½ Tbsp fresh squeezed lemon juice

1½ Tbsp coconut aminos (or gluten free Tamari)

½ tsp sea salt

¼ tsp black pepper

¼ tsp paprika

1 tsp cumin powder

2-3 Tbsp of water or more if needed for consistency
Preparation
Place all ingredients into food processor using the "s" blade and blend until smooth.

Serve with sliced veggies and gluten free crackers.

Lasts 5 days in the refrigerator.