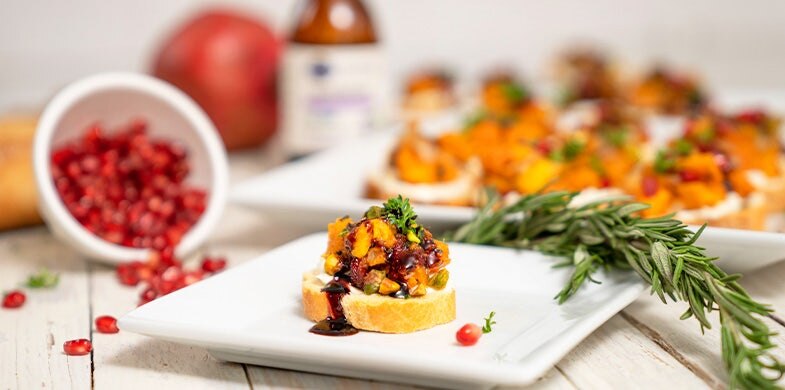 What a delicious appetizer bite for your next party or get together, this Butternut Squash Bruschetta is sure to please.
Serves: 8-10
Ingredients
Use Organic if possible
3 cups cubed butternut squash

¾ cup chopped yellow onion

½ cup dried cranberries

½ cup pistachios finely chopped

½ cup pomegranate seeds

1 Tbsp Garden of Life Coconut Oil

2 Tbsp olive oil

1 tsp cinnamon

1 tsp fresh herbs such as rosemary or thyme

½ tsp sea salt

2 Tbsp reduced balsamic vinegar

8 oz. goat cheese

18 Pieces of gluten-free crostini or crackers or parmesan crisps
Preparation
Preheat oven to 400 degrees.

Place cubed butternut squash on a cookie sheet and sprinkle with a few dashes of sea salt and about 1 Tablespoon of olive oil. Roast in oven for 30 minutes, flipping pieces over half way through.

Once the pieces are done roasting, remove them from oven and let cool then chop into smaller bite sized pieces.

Heat a skillet to medium high and add coconut oil, onion and salt.

Sauté onion for about 10 minutes, until it softens, then add in cinnamon and stir until it coats the onion.

Reduce heat to low.

Add in the 2 Tablespoons of olive oil, the cooked butternut squash, thyme, and cranberries and cook just a few minutes.

Spread a small amount of cheese onto each piece of bread.

Spoon some of the butternut squash bruschetta onto each piece of bread, then top with some pistachios and pomegranate seeds.

Lastly, drizzle with elderberry balsamic glaze.

To make glaze, whisk together the reduced balsamic vinegar (you can buy balsamic "glaze" at the store) with elderberry syrup.