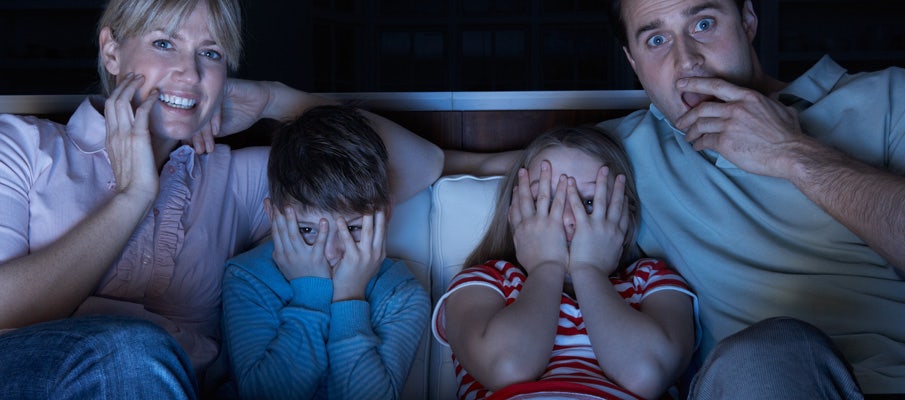 by Tracey Pollack
There's no way to sugarcoat it—candy gets all of the attention during Halloween. Sure, there are costumes and parties and spooky decorations, but for kids, the highlight of the holiday is splurging on chocolatey, sugary, pumpkin-shaped sweets until they get a stomachache! And how many days is it socially acceptable to go door-to-door asking for candy? But Halloween doesn't need to include lots of candy to be lots of fun. Work some magic for your family with these spirited ideas that make Halloween a celebration of the season, instead of the sugar.
1. Scare Up Some Movie Madness
Trade the trick-or-treating for a frighteningly fun movie marathon. There are so many Halloween movies that let kids enjoy the fantasy without any of the fear. For younger children, find films that are more delightful than frightful, such as It's the Great Pumpkin, Charlie Brown or Monsters, Inc. Give older kids a thrill with a Harry Potter movie marathon or creepy classics like Ghostbusters, Beetlejuice or The Addams Family. Then gather the gang, dim the lights and serve up some haunting healthy finger foods like air-popped popcorn, pumpkin hummus with baked pita chips, and homemade pumpkin muffins for a little something sweet that won't send the kids into sugar-shock.
2. Haunt a Pumpkin Patch
There's something about pumpkins that just screams Halloween. So round up the kids and go to a pumpkin patch for some screaming-good family fun. Many places offer hayrides, petting zoos and corn mazes that offer kids some healthy exercise and make for fantastic fall photo-ops. Let the kids pick their perfect pumpkins and head home for an evening of jack-o'-lantern carving and decorating. If you'd rather not bother with the messy slicing and shaping, grab some markers, stencils, glitter and fabric to let the kids "dress up" their pumpkins for Halloween.
When you get home, use your pumpkin and pumpkin seeds in a delicious healthier pumpkin recipe:
3. Trade Trick-or-Treating for a Backyard Treasure Hunt
For an alternative to trick-or-treating that kids will really dig, host a Halloween treasure hunt right in your own backyard. Hide tiny trinkets for your kids and their friends to find throughout your garden and patio. Then, have your little Halloween hunters put on their costumes, give them each a pumpkin pail and set them loose to scavenge for surprises. Having the kids prowl around your yard offers the same kind of experience as running door-to-door looking for candy, yet you're in control of the treats and you're able to keep an eye on them. When it comes to choosing the treasures you hide, head to the dollar store for spooky toys and tokens like plastic spider rings, Halloween stickers, bubbles, yo-yos and baby pumpkins.
4. Dress Up Your Night with a Costume Party
Keep the kids indoors for a spell by bringing the Halloween hijinks home with an enchanting costume party. Kids love to play dress-up, and what better time than Halloween? Feel free to keep it a family affair or invite your kids' friends and their parents for a night of disguises and surprises. Have your kids craft creepy invitations to hand out to their friends. Add to the party's thrills and chills with activities for all ages, such as bobbing for apples, dancing to haunting Halloween tunes or a ghoulish game of limbo beneath a witches' broomstick.

As you can see, Halloween can be full of sweet memories — without the full tummies of candy. Try these wickedly wonderful ways to have a healthy and happy Halloween, no bones about it!