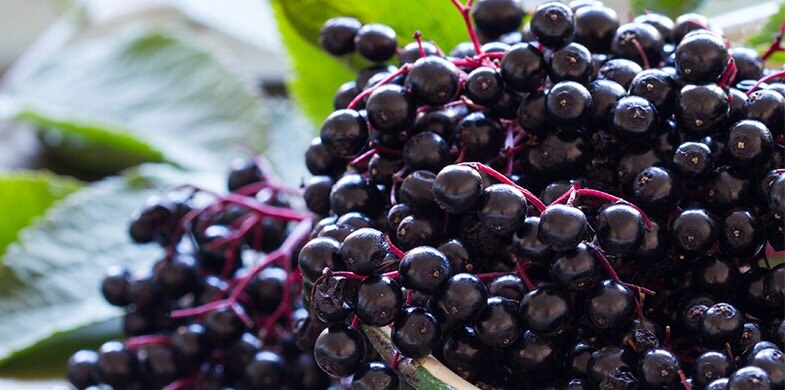 by Tracey Pollack
The buzz around the benefits of elderberry is real. This herb has been used for centuries in traditional medicine to support a healthy immune system.[1] And today, black elderberry is a popular ingredient in immune system support syrups and gummies.
Read on to learn about elderberry – a small but mighty berry packed with healthy immune response benefits for the entire family.†
What is Elderberry?
Elderberry is a popular herbal ingredient used in immune system support supplements. †
This dark purple berry grows on the black or European elder shrub and may help reduce seasonal immune system challenges and provide year-round support for a healthy immune response.†
You may even have an elderberry shrub growing in your yard or in nearby forests and fields. Look for the stunning white blossoms and dark purple berries surrounded by deep green leaves.
But please – do not eat raw unripe elderberries, elder leaves, or bark. While beautiful to look at, these contain sambunigrin, a toxic substance that may cause stomach and gastrointestinal upset. [2]
You can cook elderberries and elder flowers, adding them to jams, tarts, syrups, and even baked goods. Hint: take a look at our elderberry recipes – the fudgy elderberry swirl brownies and French toast with elderberry maple syrup are sure to be a hit with your family and friends!
Elderberry Health Benefits for the Whole Family
Elderberries are packed with beneficial organic compounds that may provide antioxidant and immune system support. As an extra bonus, this popular herbal component may deliver healthful nutrients and minerals including iron, potassium, phosphorous, copper, and vitamins A, B, and C. 2, [3]†
Research on elderberry benefits underscores its immune-supporting capabilities: 2, 3
A source of antioxidants including flavonols, elderberry may help protect your body from common toxins and stressors, supporting a healthy immune response.†

Depending on where the elderberry shrub grows, the type of elderberry, and the ripeness of the elderberries, the berries may loaded with vitamin C and dietary fiber.
Because elderberry may increase your immune system activity, taking elderberry can reduce the impacts of immunosuppressant medications. Please do not consume elderberry if you are taking immunosuppressants. [4]
If you are taking any medications, are pregnant, breastfeeding, or have any underlying health conditions, please contact your healthcare practitioner before taking supplements, vitamins, or minerals.
Adding Elderberry to your Daily Routine
To get the full benefits of elderberries, the best way to consume this natural ingredient is in supplements like gummies or syrups.†
However, if you like cooking and experimenting with ingredients, it's good to know that the tart, dark purple elderberries can be used in a range of recipes and cooking methods:
If you're curious about cooking with elderberries, there are lots of recipes online for elderberry syrup, jam, kombucha, pies, and crumbles. If you try one of our Garden of Life recipes or another recipe – tag us in your social media posts.
Just remember to never eat elderberry leaves, flowers, bark, and red, unripe, or raw elderberries – these contain substances that can cause poisoning and stomach upset.
Giving your body the immune system support it needs year-round, goes a long way in helping to minimize immune system challenges.†
Elderberry immune system support gummies and syrup may benefit you and your entire family, with their highly concentrated healthy immune response benefits.†
[1]
Mahboubi, M.
Sambucus nigra
(black elder) as alternative treatment for cold and flu.
ADV TRADIT MED (ADTM)
21
,
405–414 (2021).
https://doi.org/10.1007/s13596-020-00469-z
[2]
Elderberry, National Center for Complementary and Integrative Health (Accessed June 7, 2022)
https://www.nccih.nih.gov/health/elderberry