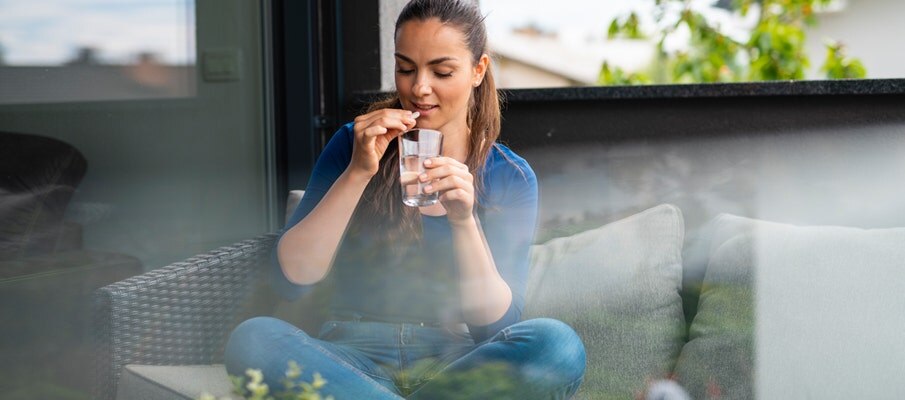 When is the best time to take vitamins? The best and safest way to take any supplement is according to the suggested use on the product label. As with any dietary supplement, always consult your healthcare practitioner before using the product especially if you are pregnant, nursing, giving the product to children, anticipate surgery, or take medication on a regular basis, or are otherwise under medical supervision. You can also ask a pharmacist if the supplement may be contraindicated with your medication or medical condition before purchasing it. From a dietitian's point of view, supplements work best the way the label recommends, for example 'with meals.' You also can call the manufacturer for general guidance. We are always happy to help our consumers and provide general usage guidance and answer ingredient questions.
Here is a general guide to taking Garden of Life's Vitamin Code vitamin products:
Getting into a routine and taking your vitamins every day at a similar time is good for your body and helps you to remember to take them consistently. As a dietitian, I suggest creating a daily schedule that works best for you and sticking to it as closely as possible each day. If you miss a day, it's okay, no need to double up. Vitamin Code is whole-food nutrition, not medication.
Vitamins to Take in the Early Morning/with Breakfast
We recommend taking Vitamin Code Multis in the morning when you take your Garden of Life probiotics, because B vitamins are energizing. We offer several options in multis: either take one capsule of Vitamin Code Raw One, or 2 capsules of your choice of Vitamin Code Women's, Men's, Perfect Weight, Women's 50/Men's 50 & Wiser with breakfast. People often start taking Raw One daily and after a month progress up to one of the other multis which have a wider array of nutrients in 4 capsules a day. But some people like the convenience of getting the basics in a once daily. If you have difficulty swallowing capsules, simply open the capsules and add the powder to your water or juice. Vitamin Code contains fermented nutrients to make them more digestible so you might notice a taste to the powder and prefer to add it to a smoothie or juice rather than plain water.
Generally, people like to take most of their supplements in the morning with breakfast for convenience, however it is best to spread them out to help the body absorb them.
If you drink a Garden of Life Protein shake for breakfast or a pre-workout shake, take your Vitamin Code Multis concurrently, or open your multis and mix them in.
One of the most common questions we get is about taking the Vitamin Code Prenatal. This vitamin is best taken as one capsule with each meal for best absorption. Pregnant moms often ask if they can take all 3 at once so they don't forget. The optimum way to take this multi is one capsule with each meal. If you are forgetful, put the bottle on the table where you eat so you see it at each mealtime. Otherwise, take 2 capsules with breakfast and the other with dinner, but if you still are constantly forgetting, yes you can take all 3 at once in the morning— it is safe to do so.
If you take additional Vitamin Code B Complex or Vitamin Code B12, definitely take these in the morning or prework as they provide energy. B vitamins are all water soluble so taking them with water or food is fine.

Vitamin Code Raw Iron If you are feeling constantly tired and think you might be anemic, talk to your doctor and have your blood work checked. It is important to only take iron if you need it. Our Vitamin Code Women's multis already contain iron, as women need more iron due to menstrual loss of iron. Generally, men and post-menopausal women don't need to take supplemental iron, so their specific vitamins don't include iron. If you need supplemental iron, consider Vitamin Code Raw Iron and remember to take it with Vitamin Code Raw Vitamin C for better absorption of Iron.

Vitamin Code Raw Calcium for supporting healthy bones, is best taken in divided doses for optimal absorption starting with 2 capsules at breakfast. Check with your pharmacist to ensure that calcium does not affect any medications and adjust timing accordingly to avoid calcium competing with medication for absorption. Vitamin D helps Calcium absorption, so we included D3 in Raw Calcium. If you take the Vitamin Code Grow Bone Kit, be sure to follow the directions (Raw Calcium- take 2 capsules with breakfast & lunch and take 3 capsules Strontium Growth Factor S at bedtime, or at least 3 hours after your last dose of Raw Calcium)— these two products compete for absorption, so do not take calcium and strontium at the same time.
What Vitamins to Take with Lunch
As most people are on-the-go and busy at lunchtime, we suggest keeping the number of vitamins at lunchtime to a minimum, which means less pills to carry around with you.
Although not a vitamin, we suggest chewing Dr. Formulated Organic Digestive Enzymes with meals as needed to support digestion.
What Vitamins to Take with Dinner
Take 1 capsule of Vitamin Code Raw D3 with a food or drink that contains fat, because vitamin D is a fat-soluble vitamin and the natural fats found in food will act as a delivery system to help absorption.

If you take Vitamin Code Raw Vitamin E and/or Raw Vitamin K-Complex, they are both also fat- soluble vitamins and are best taken with food (either at lunch or dinner).
What Vitamins to Take at Night/Bedtime
Other Tips for Taking Vitamins
The important thing is to take your vitamins daily. Put them out where you eat and use them as a memory tool. Buy a supplement pill box with days of the week and sections for each mealtime so you can check that you took them. Always read the suggested use and then make your daily plan. It may take a little while to find what works best for you. Check with your health care practitioner or dietitian if you have questions about your individual vitamin needs.
Wishing you Extraordinary Health!