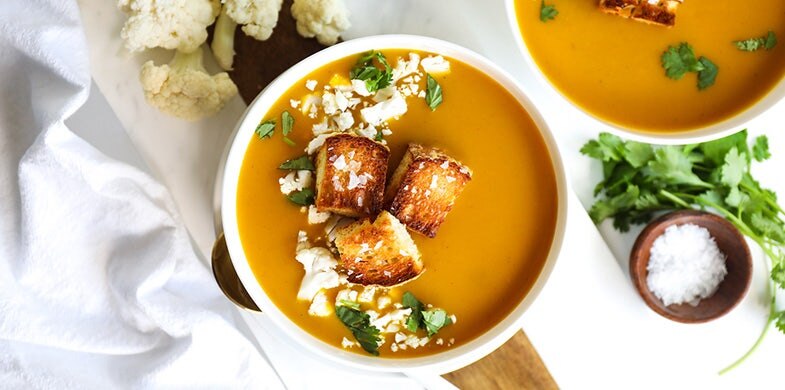 Cauliflower sure has enjoyed a glow-up over the past few years, and it's the centerpiece of this flavorful Autumn Turmeric Cauliflower Soup recipe, too. This gluten-free soup is as comforting as it is hearty and delicious, making it perfect for Movie Day, Game Day, or any day.
Use Organic if possible
10 cups cauliflower (about 3 lbs.) cut into medium florets

3 Tbsp olive oil

1 tsp cumin

1/8 tsp crushed red pepper flakes

sea salt

freshly ground black pepper

1 medium yellow onion diced

2 cloves garlic minced

2 medium carrots peeled and diced

2 stalks celery diced

4 cups low-sodium vegetable broth

1 (15-ounce) can full-fat coconut milk

1 Tbsp grated fresh ginger

juice from 1/2 lime

cilantro (to garnish)

chopped cauliflower (to garnish)

gluten-free croutons (optional)
Preparation
Preheat the oven to 425º Fahrenheit. Line a baking pan with parchment paper.

In a large bowl, toss the cauliflower with 2 tablespoons olive oil, 1/2 teaspoon turmeric boost, 1/2 teaspoon sea salt, and pepper.

Roast for 20-25 minutes.

In a large soup pot, heat 1 tablespoon of olive oil over medium heat.

Add the onion, 1/2 teaspoon turmeric boost, cumin, red pepper flakes, and a pinch of salt, and sauté, stirring occasionally, for 3- 4 minutes.

Add the garlic, carrots, and celery. Sauté for 10 minutes, or until the vegetables are soft.

Pour in the vegetable broth, scraping the bottom of the pan to loosen any caramelized bits, and continue to cook.

Add the grated ginger and roasted cauliflower to the pot, bring to a boil, reduce heat to low and simmer 10-15 minutes.

Using an immersion blender (or high-speed blender), puree the soup until smooth.

Whisk in the coconut milk and lime juice, and season with salt and pepper to taste.

Serve warm topped with cilantro, chopped cauliflower and croutons, as desired.