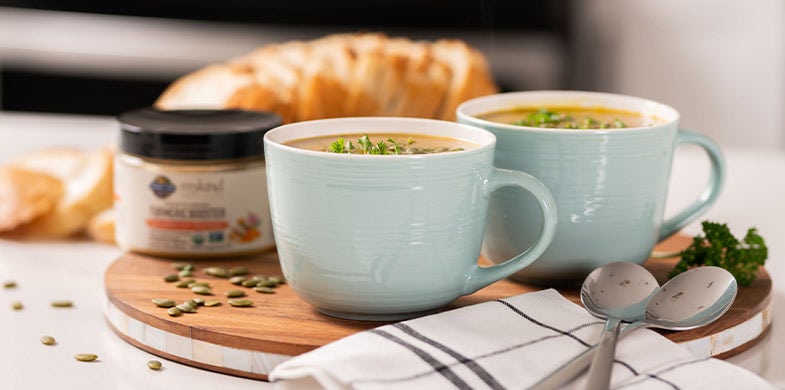 Curl up with a bowl of this scrumptious Curry Butternut Squash Soup Recipe. The minced ginger and the teaspoon of Garden of Life Turmeric Boost will ignite warmth from the inside out.
Serves: 6
Ingredients
5 cups cubed butternut squash
3 Tbsp. extra virgin olive oil
½ tsp. salt
4 cups vegetable broth
1 can light coconut milk
1 cups diced yellow onion
1 Tbsp. minced ginger root
2 tsp. curry powder
1 tsp. salt
½ tsp. cinnamon
½ tsp. black pepper
Preparation:
Preheat oven to 425 degrees.
Toss cubed butternut squash with olive oil and salt and roast for 12 minutes, then flip and roast for another 12 minutes. Remove from oven and set aside.
Meanwhile, heat coconut oil in a large soup pot and add in chopped onions and ginger. Sauté for about 7 minutes, then turn off heat and add in spices, turmeric boost, and stir until onions and ginger are coated. Add in cooked butternut squash, coconut milk and broth. Stir until well combined then either pour all contents into a blender and blend until smooth, or use an immersion blender.
Return soup to pot and simmer on low until ready to serve.
Soup lasts 5 days in refrigerator or 2 months in freezer. Option: Top with chopped parsley and pumpkin seeds.